Help Wanted
Synopsis
Edit
Samantha Potts and Ashley Moore are two women with dead end jobs, and some bad luck. Ashley is a report stuck on doing all the cute stuff, and Samantha an exotic dancer that can't seem to attract enough cash, yet gets distracted by her over active sexual libido. They would meet Lilith Mephistopheles one day during lunch who would offer them both a job. They would be paid a substantial amount of money for working every fourth Friday night they will work for her starting the next Friday by representing her at the Angel Falls Holiday Gala. The girls took the offer and received some gifts in return. At the Gala they were the talk of the Party as Samantha stole the limelight from the famous singer Sabine. Sabine a very jealous spoiled brat plots to humiliate Samantha but it fails and totally backfires humiliating herself. Lilith would then expose Sabine as a runaway succubus and have her commit suicide to rejoin her in hell.
Meanwhile Ashley got some interesting information in the restroom about Councilwoman
Alicia Forster
. She later at the press conference reveal how she is in fact Alexis Frost daughter of crime boss Dan Furillo, and she has been siphoning money from the taxpayers to front for the contractor's she hired which were her father's. She too would be captured by Lilith and commit suicide.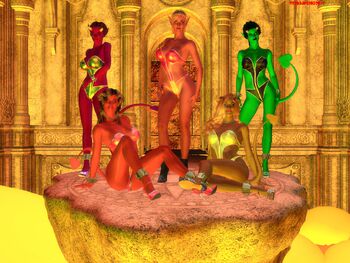 On the following Friday the 13th, the Girls were taken to Holloway-Eddington-Langford and Lynch Headquarters, which is an acronym for HELL. There both of the girls were converted to their Succubus identities.